Not all fertilizers are created equal. The difference between the best fertilizers out there and average fertilizers is drastic. It can mean the difference between a lifeless lawn and a luscious green one.
Do you want a healthy southern lawn? Then you'll want to take a look at the fertilizers below to deliver the optimal nutrients to your turf. Ideal nutrients will not only allow for robust growth, it will also fortify the root system so your grass will flourish for years to come.  
We recommend that you check out our other articles on taking care of different grass types. For instance, if you have St. Augustine grass, check out our St. Augustine care guide.
Below you will find our recommendations.
Comparing Our Top 3 Recommendations
At A Glance
All of the products below use quality ingredients and are much better than the other products on the market.
If you can determine what type of turf you have, you can further hone in on which nutrients would be perfect for your grass. Please keep reading further below to help make that determination.
Best Fertilizers for Southern Lawns
Nitrogen is very important in the growth and maintenance of a healthy lawn. But too much nitrogen can destroy it. LawnStar has the perfect blend of nitrogen, phosphate and potassium. It also has accelerated and maintenance growth aspects to feed your turf initially and support it for the long haul. It comes in liquid form. It also comes with an attachable spray nozzle to help apply the product.
Professionals use Andersons PGF Complete to green up golf courses. It comes in tiny granule form. These small granules give a steady, gradual delivery of nutrients and minerals. It has the building block of four different types of nitrogen as well as phosphate and potash. The perfect harmony of nutrients gets a further boost from minerals such as copper, iron and zinc. For those who love to apply humus (a compound made from plant compost) to their gorgeous grasses, Andersons PGF Complete already has that ingredient in it. Humic adds certain microbes to your soil to help your turf reach its full potential.
The "S" in this turf builder stands for "South!" Meaning that it is specifically made for those beautiful blades of grass in the southern states. The common dollar weed is powerless before it. Clover and other undesirable plants don't stand a chance as well. If your weeds are stubborn and don't want to disappear, a second application may be needed. It also creates a strong root-network to protect your property from those bouts of extremely hot weather. Unfortunately, if you have Bermuda grass, this is not the turf feeder for you. It only works on certain grasses such as carpet, centipede and St. Augustine.
If you test your soil and find that it lacks nitrogen and potassium, then this is the solution for you. This product uses basic, simple ingredients. Being in liquid form makes it easy to disperse. It is safe to use around children and pets. Any type of southern property can benefit from its use. Many customers have found that one application made their grass green.
The last of the mini-reviews is another Scotts company innovation. This plant food is also geared towards the particular needs of southern lawns. Unlike some other reviews of top dressings for your yard, this product is safe to walk upon right after applying it. The product is made in such a way that it can be easily absorbed by the roots. Your property has a better chance of staying healthy during dry spells. You can use Scotts Turf Builder on any type of grass. Use it every six to eight weeks in most areas for the optimal results.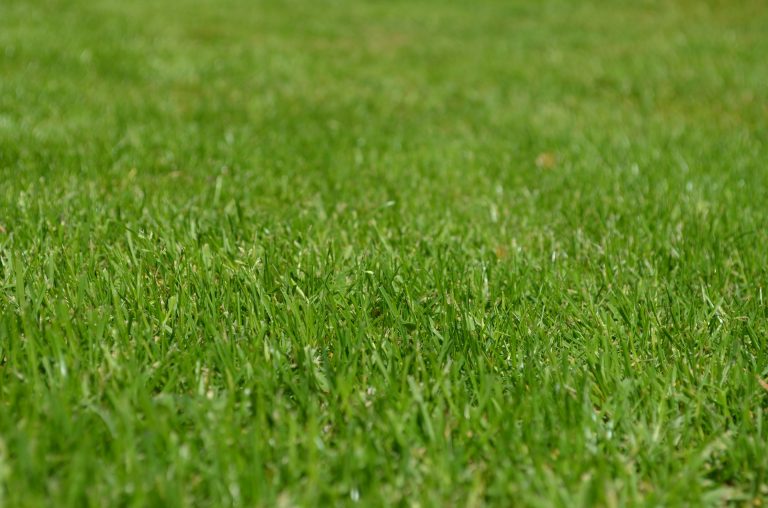 You might also be interested in our article about how to care for centipede grass.
How to Produce a Beautiful Southern Lawn
In general, there are three different types of grass that compose a typical Southern property: Bermuda, St. Augustine, and Centipede. Make sure not to choose a product based simply on the price or packaging as there is a lot of marketing hype.
What type of grass do you have?
To pinpoint the best fertilizer for your property, the first task at hand is to try to identify what type of grass you have. Typically in the south and in warmer climates, a couple different species tend to flourish: Bermuda, St. Augustine, and Centipede grass.
You can also check out our guide here on the Green Pinky about different types of grass.
Bermuda Grass
Bermuda grass tends to have sharp, pointed blades that are about 0.125 inches wide and they have a deep bluish green color. It forms a lush, dense turf.
St. Augustine Grass
St. Augustine grass has coarse blades and has a dark green color. It can be grown in partially shaded areas.
Centipede Grass
Centipede grass has coarse boat-shaped blades and tends to have a light green color.
N-P-K Ratio
If you have St. Augustine or Bermuda grass, you will want an N-P-K ratio around 4:1:2 and if you have Centipede grass, you will generally want an N-P-K ratio of around 1:0:1. This is because Centipede grass does not need as much phosphorus to flourish.
Do not over fertilize!
It is vital that you do not over fertilize. This is why having the wrong NPK ratio (too much phosphorus) for your lawn can be potentially deleterious. Too much nutrients will make your property a breeding ground for pests and will also cause your roots to be in a diseased state. Choose the right fertilizer and also make sure to follow the product instructions to make sure you are not over feeding.
Bottom Line
Again, I recommend buying Simple Lawn's Fertilizer. Don't make the mistake of buy any average product at your local gardening store. Many of them will simply not produce the same results. You cannot go wrong with any of the products above.