Spring can make all of us a little giddy after a long, dull winter.  Tulip festivals are a celebration of life through the presence of the spring-blooming, bulbiferous flowers that we have all come to know and love.
These festivals occur all over the world and are often held in cities with a distinct Dutch heritage. Millions of spring flowers with vibrant colors are put on display, often laid out in interesting patterns.
From the Skagit Valley Festival to the Tulip Festival in Amsterdam, these festivals are worth a visit to experience the beauty of life.
If you love the color tulips add to your gardens, you'll also love the green foliage that hostas add to a space. Check out our fall care guide for hostas.
1. Skagit Valley Festival, Mount Vernon, Washington
When: The month of April. There is also a daffodil festival in March
Where: North of Seattle, near Cascades National Park
There are lots to see and do at the Skagit Valley Tulip Festival, which dates from 1984. Roozengaarde and Tulip Town are commercial bulb growers and their fields of millions of them are visible throughout the Skagit Valley during this drive-around festival.
Events and activities include Master Gardener guides, bike, bus and helicopter tours, art shows, a run, and a pedal (on bikes). Beer and wine tastings and a chili cook-off add to the fun. Visitors can take in a parade, wander a street fair or quilt show, participate in a basketball tournament and meet the animals at a petting farm.
The festival's website offers bloom updates so you can plan that perfect shot for the photo contest.
2. Tulip Time Festival, Holland, Michigan
When: Nine days in early May, with a community planting day in October
Where: Southeast of Grand Rapids, close to Lake Michigan's eastern shore
Tulip Time Festival, located in Holland, Michigan, is something you won't want to miss! Each spring since 1929, this small town celebrates its Dutch heritage with this very popular festival. Six million flowers bloom throughout the city and a wide variety of activities and attractions for all ages take place. Enjoy Klompen (wooden shoe) dancers, street-scrubbing, parades, and the Moedaerdag Market (Mother's Day Market). Art exhibits, live music, a 10K run, fireworks, and food trucks add to the celebration.
3. Wooden Shoe Fest, Woodburn, Oregon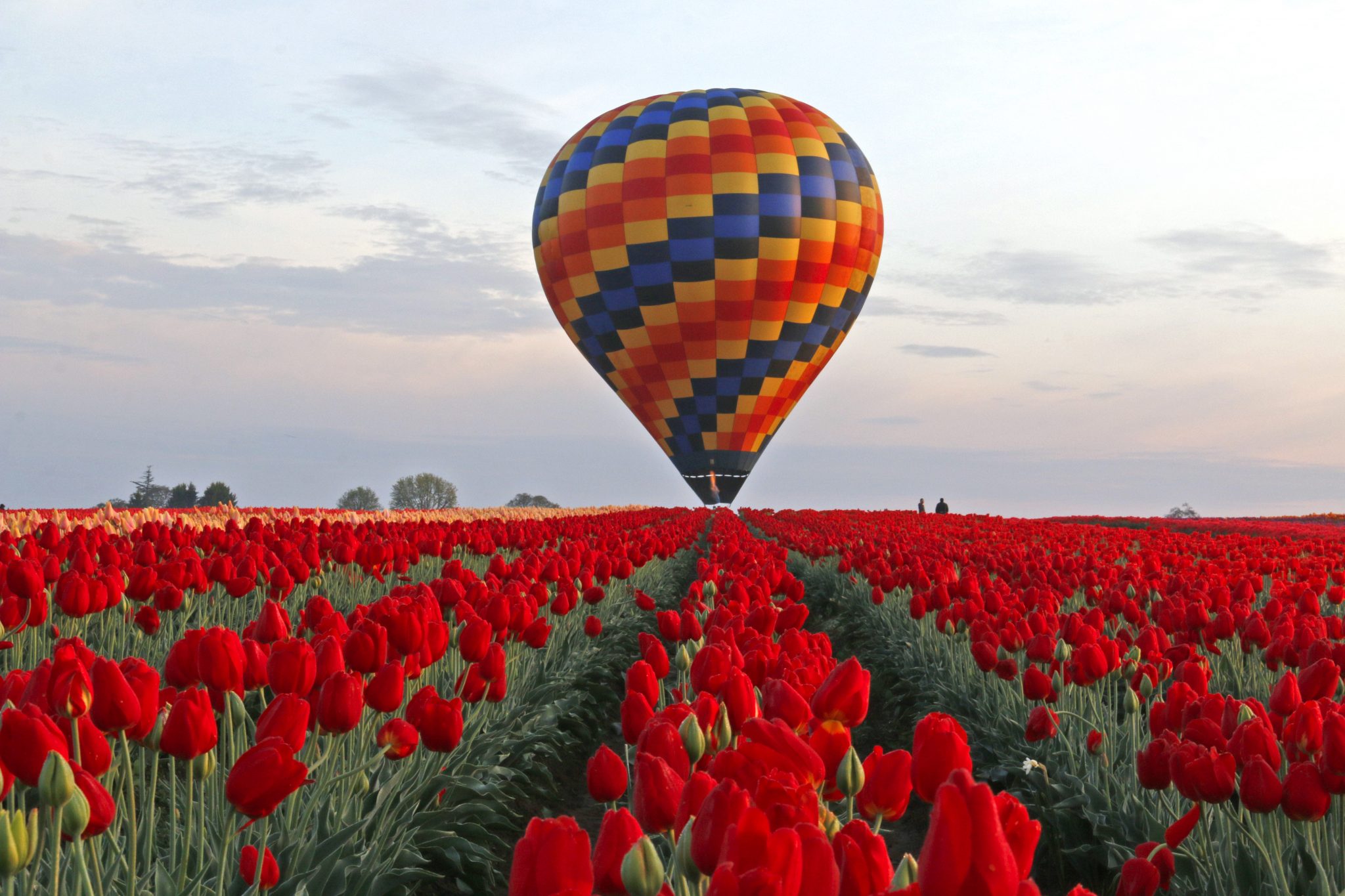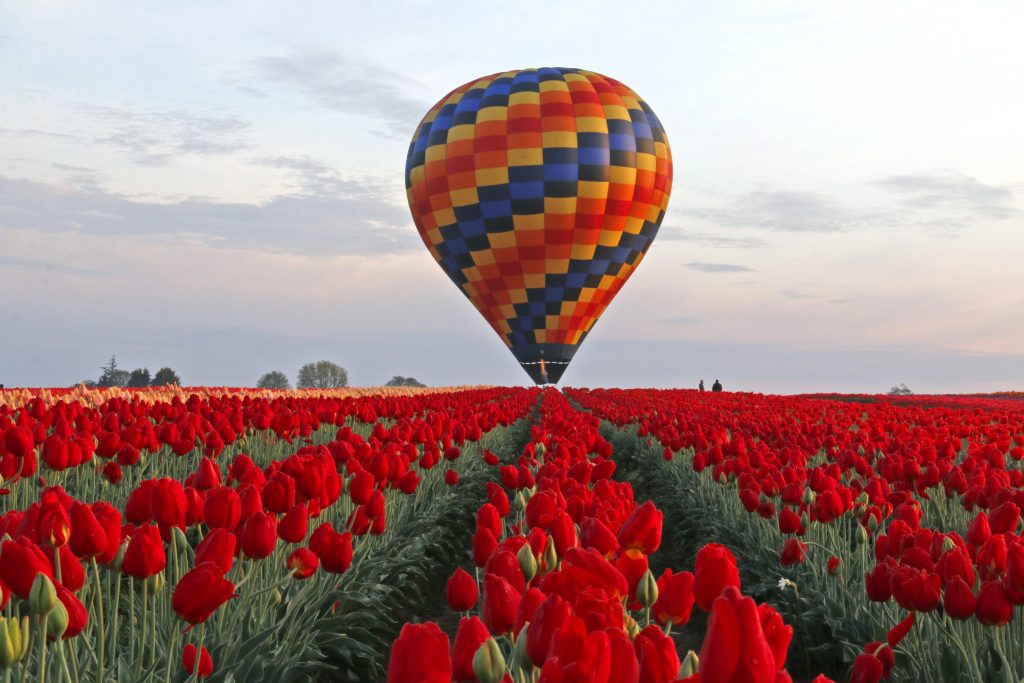 When: Late March through early May, exact dates vary each year.
Where: Wooden Shoe Tulip Farm, 7 miles from downtown Woodburn between Portland and Salem.
A working 40-acre farm in the shadow of Mount Hood, Wooden Shoe is also open to visitors. When the tulips are in bloom, the farm kicks into high gear. In addition to photo ops, there's an event space, a gift shop, and a wine tasting room. Food vendors, tram rides, hot air balloons, activities for kids, wooden shoe making demonstrations, painting classes, a fun run, live music, and a cow meet-and-greet will keep the family busy all day. Visitors can purchase cut bouquets and can pre-order bulbs for fall planting.
Admission fee applies for adults; children under 12 are free.
4. Tulip Festival Amsterdam, Amsterdam, Netherlands
When: late March to early May
Where: Amsterdam and the surrounding area
The Dutch have been growing them since the 1600s and are the world's largest producer of bulbs. This is perhaps the most famous festival of all. First, a visit to the Keukenhof gardens is a must with its 7 million tulips, complemented by other spring-blooming beauties. The park is only open in the spring – generally from late March to mid-May.
Take in the flower parade and see floats completely decorated with spring-blooming flowers. The blooming farms and fields are open for viewing, and there are also sightseeing tours. The Museum in Amsterdam is open all year. Visitors can check flower forecasts on the website.
5. Canadian Festival, Ottawa, Ontario, Canada
When: Mid May
Where: Commissioners Park and other locations throughout the capital city of Canada.
During World War II, the Dutch royal family took refuge in Ottawa and a few years later, the Canadian armed forces were pivotal in the liberation of the Netherlands. Since 1945, the grateful nation has sent a gift of 20,000 bulbs to Canada every year. This international friendship is the inspiration for the Canadian Festival, which began in 1953. Over a million of them are planted throughout the city and a wide array of activities are offered. Visitors can enjoy parades and walking tours, musical performances, races, fireworks, an outdoor marketplace, and kids' activities.
6. International Istanbul Festival, Istanbul, Turkey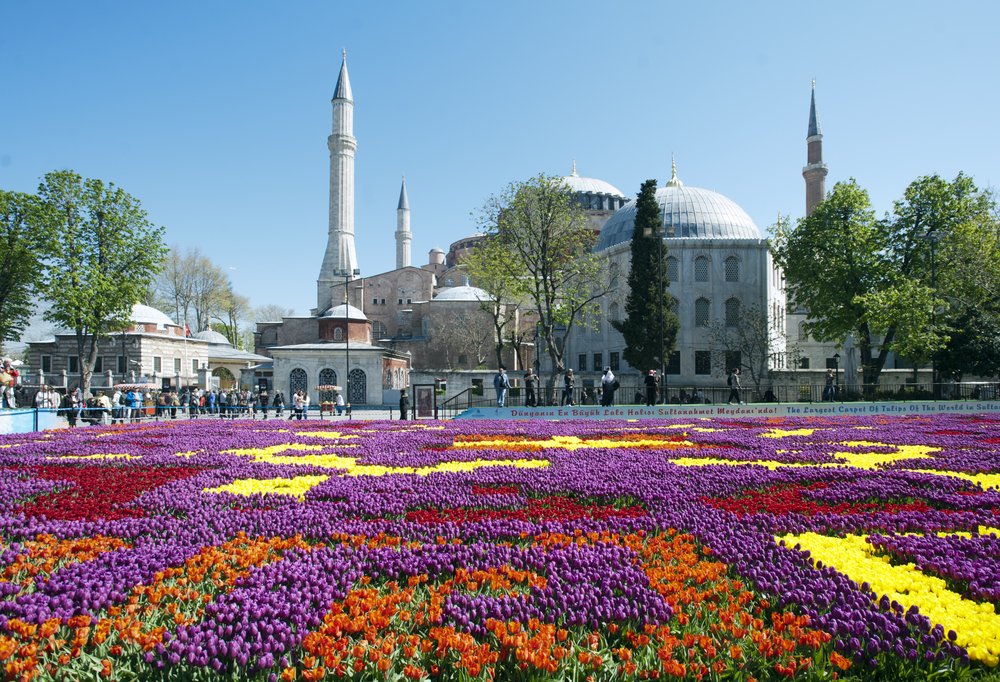 When: Most of April and into May
Where: Throughout the City of Istanbul
Tulips were first cultivated in Turkey hundreds of years ago and the country introduced them to the rest of Europe. We can date the first festivals to the 1700s when Sultan Ahmet III held parties, illuminated by candles on the backs of tortoises moving through the gardens.
Tulips figure prominently in Turkish culture and art, and for the Istanbul Festival, thirty million of them are planted throughout the city encompassing 125 different varieties. Three and a half million are planted in Emirgan Park alone. The Tulip carpet in the Sultanahmet district of Old Istanbul measures an astounding 15,640 square feet (1453 square meters) and contains 564,00 flowers. And all of the them are locally grown.
7. Tonami Fair, Tonami, Japan
When: 2 weeks in late April/early May
Where: Central Japan, on the Sea of Japan, about a 5-hour drive from Toyoko
Tonami is the tulip bulb capital of Japan and they really go all out for their fair. There's a new theme every year, and millions of them are planted in geometric patterns, on floating islands, as living walls and valleys. Visitors can climb their tower for stunning views. Don't miss the museum where tulips are grown and displayed year-round.
Admission fee applies.
8. Indira Gandhi Festival, Srinagar, Kashmir, India
When: April

Where: Northern India
This 30 -acre garden is built on the side of a mountain in a series of seven terraces. The largest tulip garden in Asia offers beautiful views of Dal Lake and snowy mountain tops. Outside the garden, there is a lively market with decorated stalls offering Kashmir's cuisine and crafts. Other lakes, gardens, marketplaces, temples, and shrines are all just short distances away, making Kashmir a lovely springtime vacation spot.
There is an admission fee to enter the garden.


9. Tesselaar Festival, Silvan, Victoria, Australia
When: If you weren't able to attend a festival in April or May, there's always September and October down under!
Where: 60-minute drive from Melbourne
There are nearly a million tulips in bloom during Australia's springtime on this 55-acre working farm. The popular festival began in 1954 when the admission fee was a silver coin donation to Red Cross Australia. Since then, the festival has expanded to include music, food, and drinks (including Poffertjes, the famous Dutch mini pancakes). Picnic lunches are welcome and visitors can see it all in just a few hours or make a day of it.
During the rest of the year, the farm operates as a nursery and mail-order business. In March and April, Tesselaar host the KaBoom Flower Show.
10. Holland Ridge Farms Festival, Cream Ridge, New Jersey
When: April
Where: Central New Jersey
This 50-acre working flower farm boasts over one million tulips. During the festival, buckets and clippers are provided so that you can pick your own.
Picnics are allowed on weekdays. Some days have later hours for sunset photographs. There are a gift shop and bakery, food trucks on the weekends, pony rides and hayrides, and farm animals to visit. The farm hosts private parties and weddings. They also sell bulbs and ship anywhere in the US.
Holland Ridge also offers a sunflower U-pick in late summer/early autumn.
11. Festival at Thanksgiving Point, Lehi, Utah
When: Mid April into May
Where: North of Provo
Thanksgiving Point is an indoor/outdoor event space gardens, museums, restaurants, education opportunities, a butterfly biosphere, and a golf course. 280,000 tulips are planted throughout Ashton garden and there's a 5K that takes you jogging through the garden. You can also purchase a bouquet to take home.
Admission fee applies, yearly memberships to Thanksgiving Point are available.
12. Albany Festival, Albany, New York
When: Mother's Day weekend
Where: Washington Park in this capital city on the Hudson River – a 3-hour drive north of New York City
Tulips are the official flower of Albany, and every May, the town holds a festival in Washington Park. This festival – which boasts 100,000 flowers – was started in 1949 and takes place on Mother's Day weekend.
Activities include the scrubbing of the street, crowning of the Tulip Queen and her court, food, crafts, activities for kids, music, and the Royal Tulip Ball.
13. Tulip Time Festival, Pella, Iowa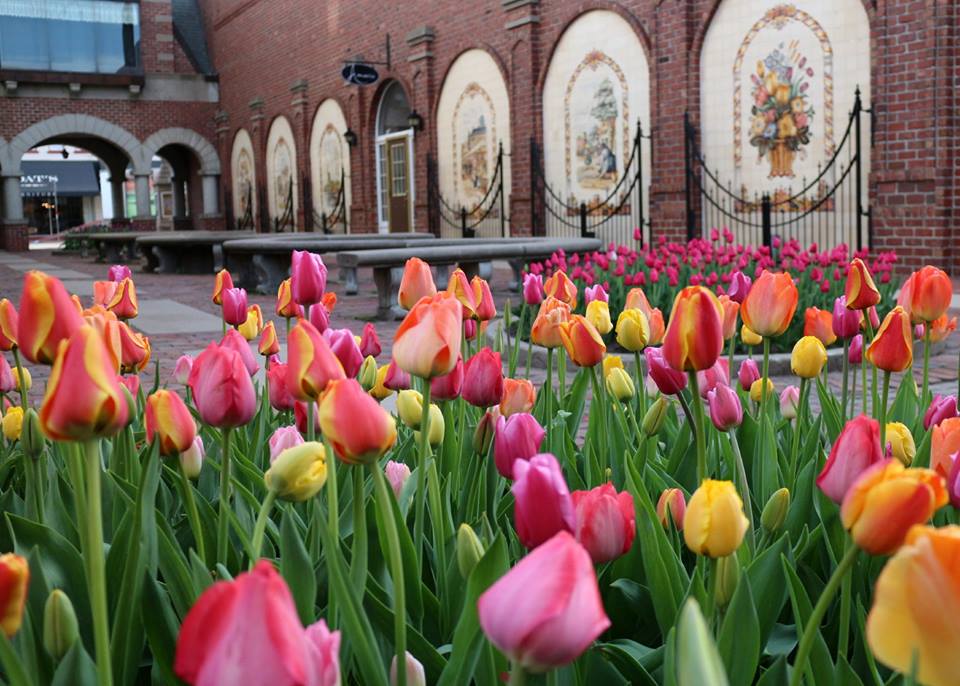 When: Mid-May
Where: Central Iowa, about 40 miles southeast of Des Moines
Pella was founded by Dutch immigrants and this small town has not forgotten its heritage. The town itself boasts Dutch architecture, ethnic foods, historic sites, and the largest working windmill in the U.S. During Tulip Time, visitors enjoy street-scrubbing, parades, quilt shows, wooden shoe dancing, and the crowing of the Tulip Queen while admiring the beauty of 300,000 flowers.
The Pella Historical Society provides sample itineraries depending on your group's interests – there's even one for kids!
14. Tulipmania, San Francisco, California
When: February
Where: Located at Pier 39 at Fisherman's Wharf.
39,000 tulips are planted along the pier and the horticultural staff offers free guided tours, followed by free doughnuts and coffee. You can also take a self-guided tour.
These thousands of bulbs have been pre-chilled before planting because San Francisco's climate is too warm to give the bulbs the cold winter's nap they require. Tulip displays are a novelty here, and Tulipmania is worth visiting if you're a resident or in town during the show.