I can't believe how much attention my fiddle leaf fig trees receive. But they can also require time and care. That's where artificial ficus trees really shine.
Fiddle leaf fig trees are beautiful centerpieces that fit any type of design. It adds an understated but elegant pop of color.
Taking care of a ficus tree is not too bad with the proper care guide…but I get it. It's still work. It's still another thing to do on the long list of things to do.
A faux fiddle leaf fig tree is a good alternative. In fact, it's a great alternative!
Keep reading to learn why and also one of our favorite setups.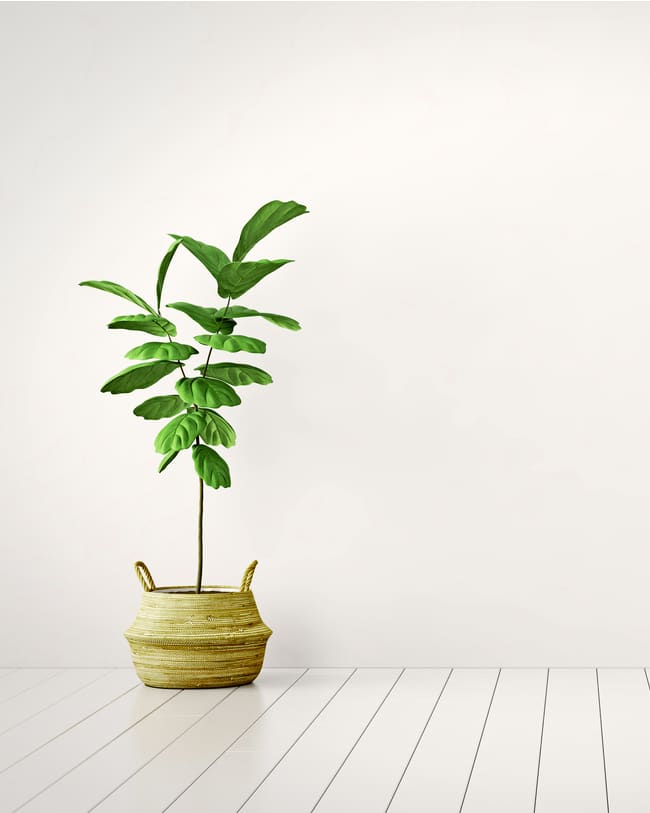 Ficus Lyrata Plant
Fiddle leaf fig trees, or ficus lyrata, are tropical plants known for their large, waxy leaves.
They have become a favorite among many popular interior designers because of their versatility and the ways it can be used to pull together a living space.
The plant is native to Western and Central Africa rainforests, but it is quite versatile and can survive indoors with the proper water, sun, and fertilization.
Many people who do not want to go through the hassle of taking care of a ficus lyrata instead buy an artificial one.
Should You Buy a Fake Plant?
There are too many heated opinions surrounding this question. My opinion? Whatever works best for you.
As a gardener, I am naturally inclined to living things. But I also think it is perfectly reasonable to buy a fake plant. It adds green to a living space. And while it may not be living, it invites an air of life and lifts the mood in a room.
An artificial fiddle leaf fig is almost as perfect as it gets when looking for a fake plant. Its large, waxy leaves lend itself well to be being used as a faux plant and giving it a realistic look.
One of Our Fake Tree Setups
When you lay out your fake tree, we recommend putting it in a place where it receives attention, but not too much attention—a perfect balance between drawing attention to itself and drawing attention to its surrounding furniture or pictures.
Because it's not a real fig tree, you can get away with more liberties when setting it up. Our favorite set up is to place a faux ficus lyrata in a woven basket.
We prefer woven baskets that are simple and only one color. Understated. Elegant.
There are other faux ficus lyrata trees that you can find for a more expensive price at places like West Elm. However, when looking at a value perspective, why spend a lot more for minimal improvements in quality?