Without any prompting, most people can close their eyes and envision their favorite rose. In their mind, they quickly see the soft, velvety petals in their beautiful, pale colors or bright, bold hues. The heady aroma fills the air and delights the senses of anyone close enough to enjoy.
Anyone who's stepped foot into a rose-house at their local nursery, or pulled up their favorite online retailer, can tell you the choices are fantastic. Plants are available for purchase in a range of colors, flower sizes, and scents.
Therefore, let's talk about some excellent varieties you should check out if you're in the market for a new plant.
Make sure to check out our other rose articles on the Green Pinky:
Categories of Garden Roses
Garden roses are divided into three main categories to help classify the 150 varieties and thousands of cultivars. They are categorized as old types, modern/hybrid types, and wild types based on their history, breeding, and growth. Each category is unique in its way and is loved by growers for different reasons.
Old: This type is also known as antique or heritage, having been around for almost 150 years without any changes. Old varieties are known for their strong fragrance, and they flower once a season.
Modern: Modern varieties are selectively bred, combining the best characteristics of old types to create new hybrid varieties with bright, bold colors, specific bloom sizes, and unique fragrances.
Wild: Wild varieties have been growing, uninhibited and unaltered, for thousands of years with little help from humankind. They have brightly colored hips and typically bloom in shades of red, pink, and white.
Subcategories
Numerous subcategories or other classifications are used to differentiate the types of roses within the three main categories. Some of these classifications describe their growing habit; others are related to the breeding history or blooming characteristics. To help you better understand the names, here are some standard terms and a brief explanation.
Alba: Heirloom type dating back to 100 A.D., available in shades of white and pale pink. Extremely hardy and very fragrant.
Bourbon: Plants bear large, full blooms with heavy fragrances. They may be a cross between China and Damask types.
Centifolia: Blooms resemble a cabbage head with thin, tightly overlapped petals. They only bloom once in early summer.
China: More exotic than the other types, these blooms are compact and bushy with lovely fragrance. Resistant to disease but not cold tolerant.
Climbing: Sturdy upright canes reach up to 15 feet in length and can be trained to grow along supports. The term is commonly used along with another name.
Damask: Originating in biblical times, Damask is the most ancient type. They are exceptionally fragrant but come in two varieties, Summer and Autumn Damask.
English: With hundreds of varieties available, they have the fragrance of Old varieties but have continuous blooms in various colors like modern types. They are also known as David Austin types, named after the infamous breeder.
Floribunda: Blooms continuously, presenting a large cluster of flowers. Extremely easy to grow, needing little care.
Gallica: Dating back to the 12th century, Gallica is another ancient type. They bloom once, are incredibly hardy, and their scent is often used in perfumes.
Grandiflora: A combination of hybrid tea and floribunda, Grandiflora has clusters of showy blooms and a constant growth period for longer flowers.
Groundcover: These low-maintenance plants are often known as "landscape" roses, growing outward and not very tall.
Hybrid Tea: With thousands of varieties, hybrid tea is one of the most popular classes. Beautiful, ornate blooms perch atop long, sturdy stems for 6 to 7 weeks.
Miniature: A shorter, compact version of hybrid tea or Grandiflora types. Plants typically never grow more than 30-inches tall.
Polyantha: Like floribunda, these plants grow shorter with smaller blooms, making them excellent for containers or hedges.
Shrub: This type tends to spread wide and large. They produce bountiful clusters of flowers and are cold tolerant.
Interesting Varieties Categorized by Color
With thousands of cultivars to choose from, picking roses for your garden or flower beds can be daunting. Growers love the following varieties for their gorgeous colors and other unique features. No matter your color preference, there is sure to be at least one type listed here that would make a beautiful addition to your garden or yard.
Lavender
Fragrant Lavender Simplicity (Shrub)
With an out-of-this-world scent, 'Fragrant Lavender Simplicity" is a simple variety with large, violet-mauve double blooms. This moderately new variety is easy to grow and highly disease resistant. It makes a fantastic choice for borders or hedges, filling the space with its citrus scent.
Blue Moon (Hybrid Tea)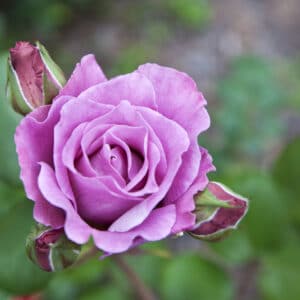 Introduced in 1964, 'Blue Moon' is one of the first lavender tea roses. The buds open fully into 4′ fully-double blooms with 35 soft lavender petals. It repeatedly blooms on new wood and gives off a super-sweet, slightly spicy scent.
White
Garden Party (Hybrid Tea)
The stately white double blooms of 'Garden Party" have a pale yellow undertone and hints of blush pink on the outer petals. Each flower has more than 40 petals with a light fragrance. This hybrid tea prefers hot summers and does best in zones 7 through 10.
Claire Austin (English Climbing)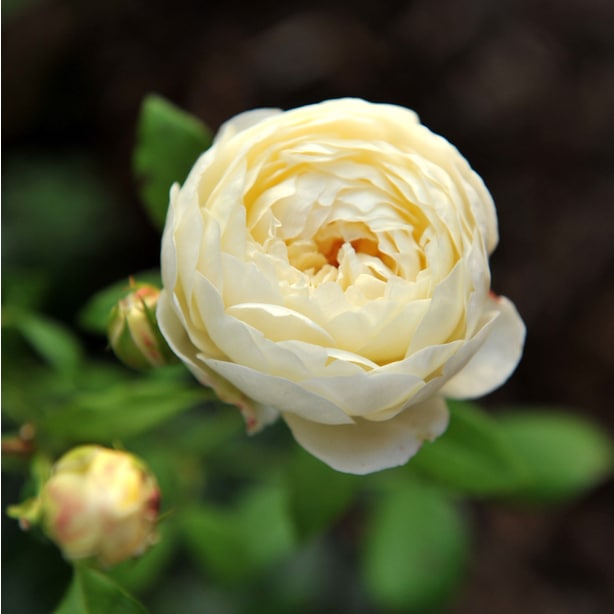 Climbing rose 'Claire Austin' is an intensely fragrant, climbing rose that displays creamy-white, goblet-shaped flowers with notes of myrrh, meadowsweet, and vanilla. Each medium-size bloom contains over 120 petals. Plants have vigorous, deep-green foliage.
Purple
Bleu Magenta (Climbing)
While the 'Bleu Magenta' has a minimal scent, its rich, deep purple blooms make it worth planting. Growing up to 15-feet, they are a great climbing variety with few thorns and bright green, glossy foliage. Flowers are more pinkish the first couple of years, developing into the plant's striking purple color as they mature.
Ebb Tide (Floribunda)
Displaying smoky, deep plum-purple blossoms, the double, old-fashioned flowers on 'Ebb Tide' grow to 3.5 inches and have 35 petals. The strong scent is rich and elegant with a combination of citrus and cloves. Dark-green, semi-glossy foliage grows on an upright, somewhat compact growth habit.
Orange
Voodoo (Hybrid Tea)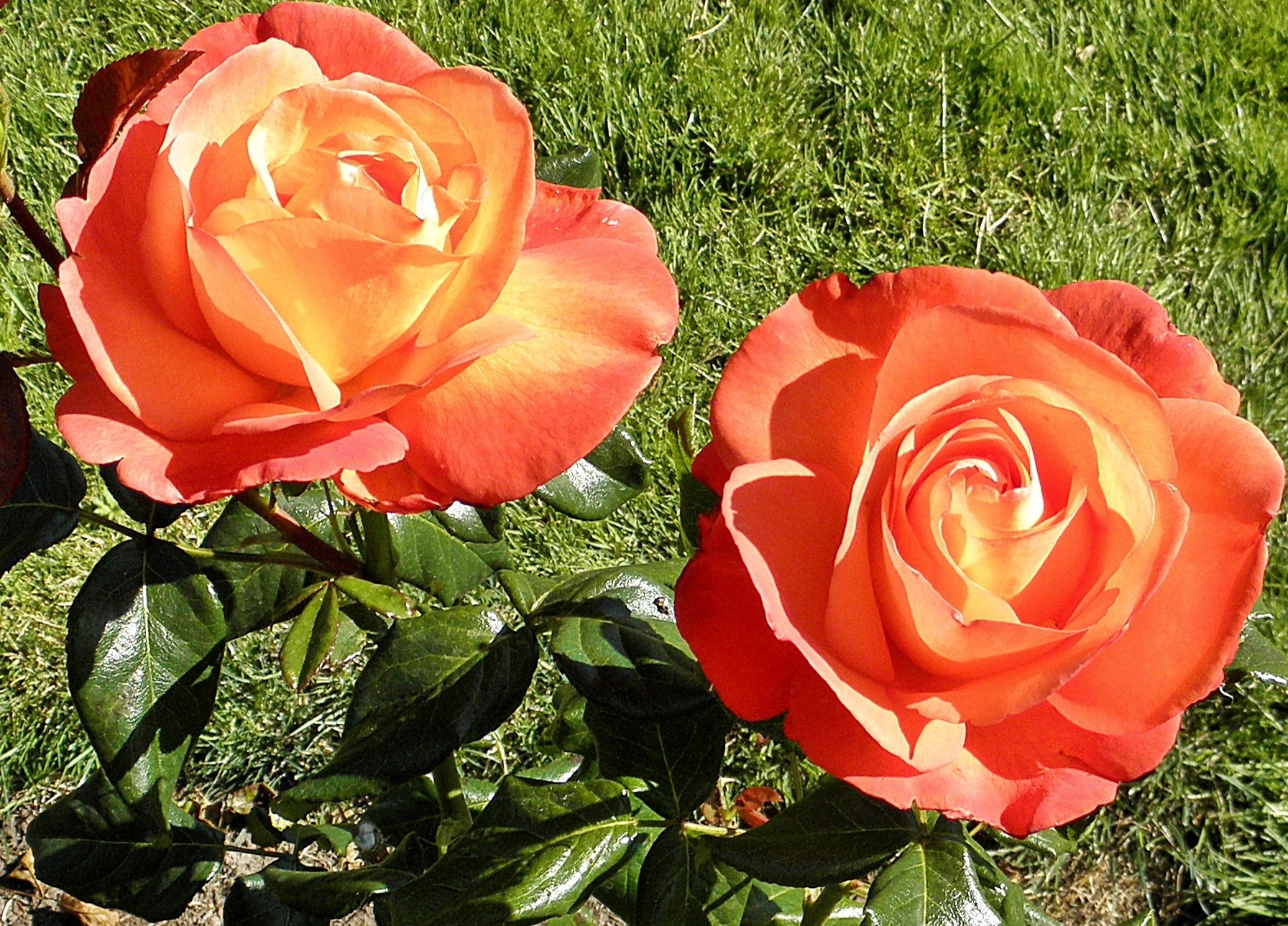 An All-America Rose Selection award winner in 1986, 'Voodoo' is an eye-catching blend of oranges, yellows, and red. At the height of the season, the shrub is covered in fully-double, wonderfully fragrant blooms spanning 5 to 6-inches across. It shows excellent disease resistance and thrives in warm summers.
Tropicana (Hybrid Tea)
Highly fragrant with a citrusy scent, 'Tropicana' received the All-America Rose Selection award in 1963 and has been popular since then. Bright, orange-red blooms are reminiscent of a gorgeous tropical sunset. The shrub grows tall without getting wide, displaying deep green glossy leaves.
Pink
Friendship (Hybrid Tea)
Adorned with massive, deep-pink blooms edged with a hint of red, 'Friendship' was a 1979 1979 All-America Rose Selection award winner. The tea-shaped, double blossoms have a strong, sweet fragrance and make excellent cut flowers.
Heritage (Modern/Bourbon)
A stunning English type, 'Heritage,' bears double, soft-pink blooms with 30 petals that smell like sweet lemons and a touch of honey. This cup-shaped beauty has fewer thorns on the canes than most varieties and displays good disease resistance.
Yellow
High Voltage (Shrub)
The Portland Rose Society's Best Shrub Rose in 2010, 'High Voltage' shocks growers with beautiful clusters of double yellow blooms on sturdy canes. Its incredibly clean dark-green foliage complements the highly fragrant blossoms. The foliage on this shrub fills to the ground in an upright, vase shape habit.
Midas Touch (Hybrid Tea)
Winner of the 1994 All-American Rose Selection award, the 'Midas Touch' bears deep-yellow blooms on long, disease-resistant canes. This repeat bloomer has abundant, medium green foliage. Its blossoms have a long-last, moderate fragrance that smells fruity.
Red
Mr. Lincoln (Hybrid Tea)
One of the most fragrant hybrid tea varieties, 'Mr. Lincoln" was an All-America Rose Selection Award winner in 1965. Large, fully double 4-inch blooms are deep crimson red with an incredibly velvety texture. Plants have dark green leaves and show good disease resistance.
Veterans' Honor (Hybrid Tea)
Introduced in 1999 to pay homage to those serving in the American Armed Forces, 'Veteran's Honor" is adorned with deep, dark red 5.5-inch blooms. When open, the perfectly formed blossoms have a light raspberry smell and sit atop long stems, making them great for arrangements.
Peach
Sweet Juliet (English Shrub)
Named after Shakespeare's heroine, 'Sweet Juliet' is one of the most popular David Austin® varieties. Large, elegant flowers open up to reveal 70 perfectly arranged petals transitioning in color from soft peach to warm apricot. Each cup-shaped bloom is intensely fragrant, and the plants are disease resistant.
Port Sunlight (English Shrub)
Extremely healthy and disease resistant, 'Port Sunlight" bears rosette-shaped blossoms with 90 petals in pale apricot. The medium-sized flowers have a mild fragrance and are low on thorns. Immature foliage and stems are bronzy-red, deepening to a dark green over time.