Smartphone technology puts so much power in our hands. Now we can snap a quick photo and use an app that instantly identifies plants or a flower. But the decision to choose a useful app is often daunting. With so many options available for download today, it's easy to become overwhelmed by the choices, making it unclear which is the best for your needs.
To help in your search, we've reviewed Garden Answers Plant ID to give you an overview of its features, as well as what's to like and what could be seen as a drawback.
Keep reading below for our full review, but if you're in a rush:
"
While Garden Answers has a fair app layout, their main feature is plant identification. If you are looking for anything else other than that, I would suggest looking elsewhere.
"
-The Green Pinky
Overview
"Revolutionary plant identification app that instantly identified over 20,000 plants and gives you accurate and detailed information about it."
Available for iOS (through the iTunes Store) and Android (through Google Play).
Option for free or premium subscription.

The free option allows users to use the automated search as often as needed.

Premium subscription is $3.99/year charge to your Apple or Google account.

Purchase expert advice for $1.99 per inquiry.
Since its launch in 2013, it has become the #1 downloaded gardening app in iTunes and has over 3,000,000 users between the iOS and Android platforms.
Features
The point-and-click interface is broken down into six different sections , allowing you quick access to the various features.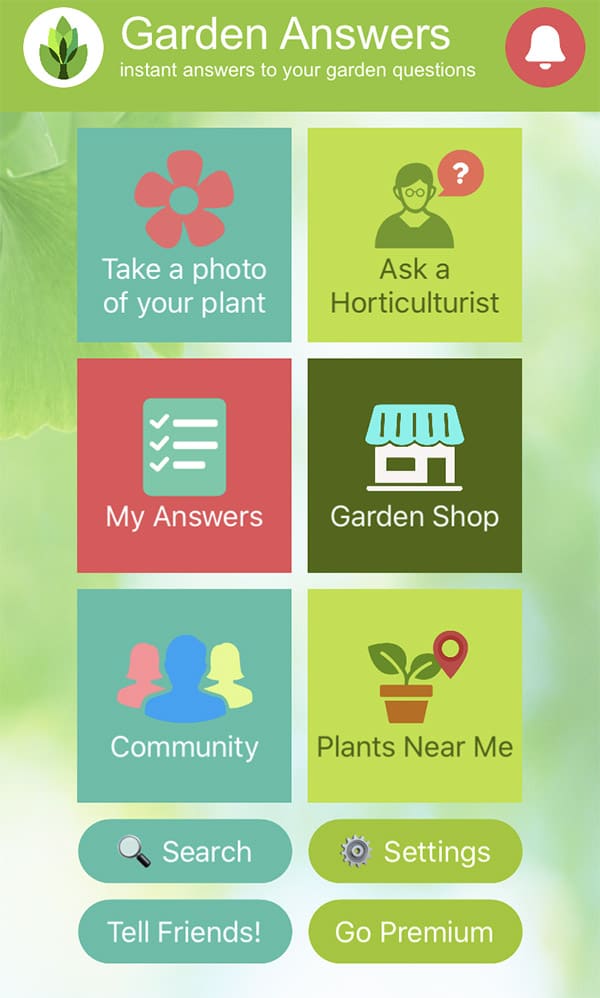 Take a photo of your plant
Broken down step by step, the primary feature of the app is incredibly simple to navigate. In a short time, you'll be well on your way to having answers.
The first step  is to take a photo of the item in question or upload one from your phone's photo album. To help ensure the technology can instantly identify the plant, it offers suggestions (via YouTube video) on taking a good photo.
Once processed, the screen displays similar photos , allowing you to choose the one that best matches. Tap the individual images to read through distinguishing characteristics and information on care.
After determining a match, it then saves the content under the "My Answers" section for later access.
Ask a horticulturist
If the image recognition technology doesn't provide a suitable match to the plant in question, you can pay a one-time fee to ask on-staff horticulture experts to help identify it. Similarly to the plant ID section, it walks you through the process step by step , making it easy to submit a question.
1. Terms of the inquiry are detailed, including the cost, turn-around time, and recommendation to contact Poison Control if there was ingestion.
2. What type of question is this? Choose "Plant Identification" or "Disease or Problem". If you choose the second option, you are recommended you contact a local Master Gardener association for assistance.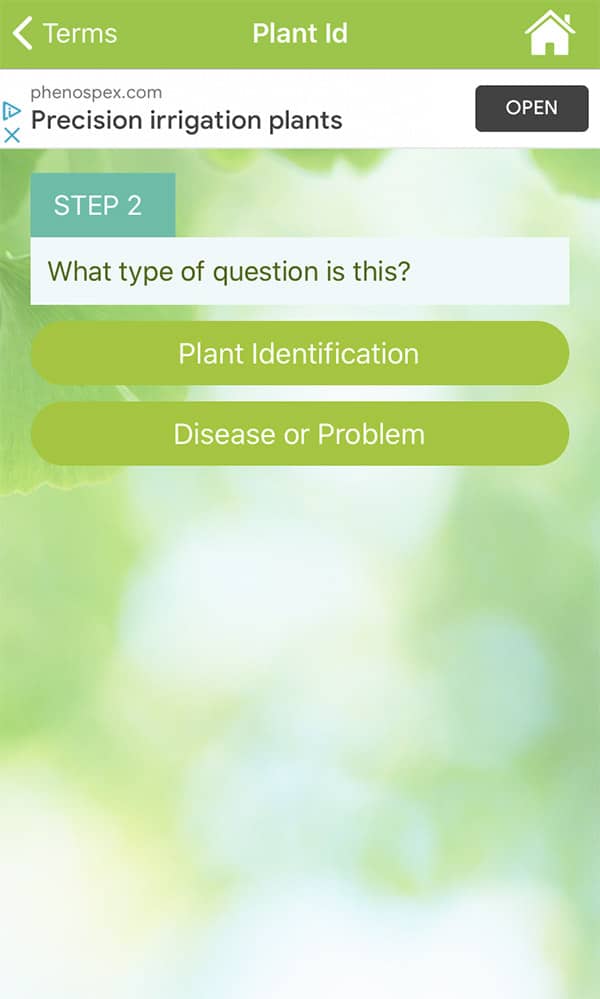 3. Location. Type in your preferred location or click on the map to choose your area.
4. Add photos. It's recommended to upload or take 2 to 3 photos to aid in identification.
5. Provide additional information. This is optional, but recommended to aid the experts with identification.
6. Confirm purchase.
After the purchase is complete, the inquiry submission is confirmed via a pop-up notification. Shortly after that, you will receive a confirmation email as well.
Once your inquiry has been answered, you will receive an email and a notification. If your photo cannot be identified for some reason, you will receive a credit to your account for a future inquiry.
My Answers
This section stores the information from your expert inquiries, matched plants, or any content you set as a favorite. Everything is separated into sections for easy access.
Paid Answers
Recent
Favorites
Notifications
Plants near me
Garden shop
Garden Shop
When you tap on the Shop icon, it takes you out of the app to a web browser tab where you can shop a wide range of categories (i.e., deer resistant plants, environmentally responsible supplies, sun plants, and vines). Exclusive special offers are updated weekly.
Community
To chat with a large, ever-expanding community of US gardeners (5.8K members), you can opt to join the private group, "Garden Answers Q&A" on Facebook.
Plants Near Me
Type in a designated location or click on the map to bring up a local species list for the given area.
Verdict
The Garden Answers is rated fairly well, with a rating (out of 5 stars) of 3.8 on the App Store and 3.3 on Google Play.
After spending a few days getting acquainted with the app, identifying some houseplants and flowers, and asking the horticulture experts for help, the following pros and cons became apparent.
Pros
Eye-catching, brightly colored icons draw your attention to the different features within the app.
Easy to navigate through the different sections, everything is clearly labeled and well laid out.
YouTube tutorials walk you through the various features and explain how to identify your plant instantly.
US-based consultants are familiar with commonly grown species for our area. According to the developers, "[w]e know there are a lot of other plant identification apps available. The Garden Answers app is based and housed entirely in the USA. Other popular plant ID apps are owned by Chinese companies or are tied to other foreign entities…We over here at Garden Answers hope you'll tell your friends and family why we are the most trusted gardening app in North America."
Quick response to inquiries. The typical response time is 24 hours, with a caveat that if there is a delay in answering your question, you will receive an email describing the issue. Surprisingly, when I submitted a request to identify a succulent gifted to me, my question was answered in just over an hour.
Asks for your location or a location you'd like to find information for. This is helpful to narrow down species prone to specific areas.
There is a comprehensive website with an informative FAQ section to answer user questions. The advice tab allows you to search and find even more information to answer your commonly asked plant questions.
The free subscription provides plenty of useful content. The search feature delivers relevant content from over 200,000 commonly asked plant questions.
Cons
To be fair, there are a couple of negative aspects that stood out when I was reviewing the app. Depending on your needs, they may not be relevant, but they are worth mentioning.
The app is designed as a plant identifier; its purpose is not to diagnose a plant disease or an insect infestation. If you need help with diagnosing a problem it directs you to contact local Master Gardeners for help.
There isn't a clear description of the difference between the free subscription and the premium subscription. The upgraded version states it provides more access to information without ads. When using the premium version I couldn't see a marked difference in access to information, although the ads are gone.
Overall
Now let's get down to the nitty gritty…Garden Answers Plant ID is a fair choice for a quick and straightforward way to identify a plant or flower. Its photo recognition technology can instantly identify almost any plant given clear photos are provided, helping you when you're unsure what plant you have or came across.
The major drawback to the app is it doesn't allow you to ask experts for diagnostic help. You can access the searchable database to find information on pests and diseases including how to treat them, but you will need to know what the problem is for yourself.
If you're only looking for help identifying plants or flowers, I highly recommend the app. If you're looking for a tool that identifies plants and helps diagnose problems all in one, you'll find it to be lacking.
While Garden Answers has a fair layout, their main feature is plant identification. If you are looking for anything else other than that, I would suggest looking elsewhere. All their other features are actually just links to their website. Also their paid version does not seem worth its costs as it does not do anything other than remove ads.
Disclaimer: Any opinions expressed in this review are solely my own. I have not received any compensation from Garden Answers for writing this product review and do not receive compensation for any links mentioned above.