Finding the perfect grass type for your lawn is essential. To raise a lovely lawn, you need to have a species that will thrive in your environment. Choosing the right one might seem challenging, but it becomes easy once you know about the most popular options out there and their respective characteristics.
There are many different species and varieties, but the most common species can be shortlisted into two main types for easy selection. They can be classified as two types: cool-season and warm-season grasses. Warm-season varieties survive easily in the southern environments while the cold season varieties thrive more in the northern climates.
One popular turf type is Bermuda grass. Learn how to raise it properly with the help of our guide.
Today we will cover all you need to know about different types so that you can choose the best one for your situation. We have many guides for each of these grasses, so make sure to click "types of grass" in our header navigation above to learn more about each particular species.
Cool-Season
Kentucky Bluegrass
Kentucky bluegrass is one of the most popular cool-season options. Their seeds germinate quickly and grow into broad blades. The softness of its blades is ideal for family with young children or walking barefoot. The deep green color of its blades makes for one of the most attractive lawns. The excellent root penetration and strength make it suitable for both seed and sod.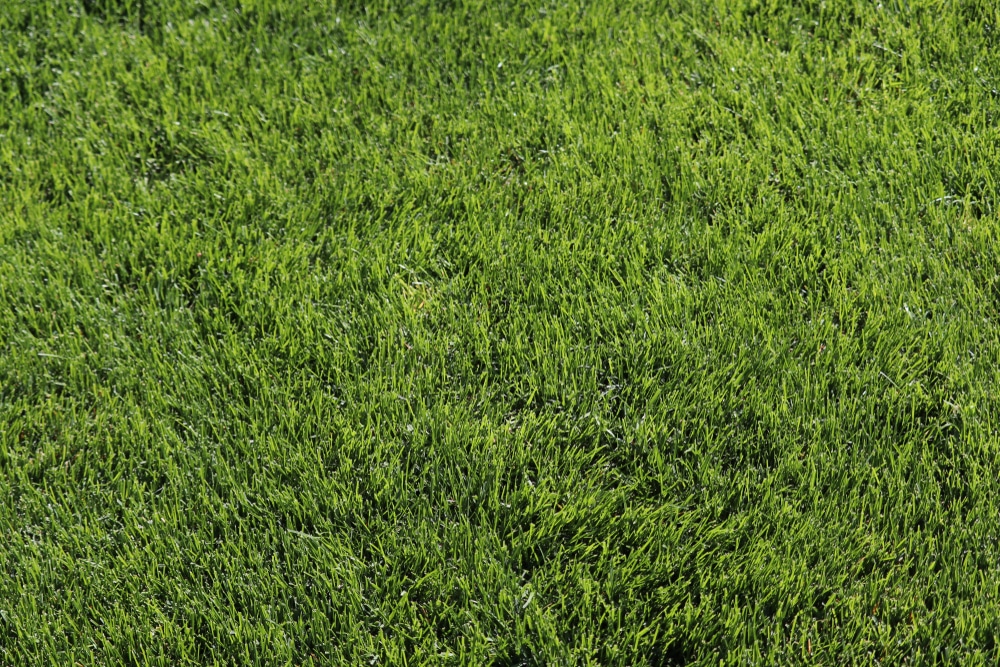 Fescue
Fescue grass is another cool-season variety, but there are many sub-types that fall under it, and some of these varieties can thrive in either warmer or cooler climates. The fine fescue, for example, is durable and is shade tolerant. It grows relatively fast and will give a lawn a subtle green color. It is also soft, which is great for families with kids and a barefoot barbecue evening.
Perennial Ryegrass
This species creates a lawn that is soft and can resist heavy foot traffic. Perennial ryegrass is one of the most tolerant of all cool-season varieties and is relatively low maintenance.
Mowing your lawn is an important part of taking care of any and all species. If you are having trouble with your lawn mower, make sure to check out our guide on how to drain gas from your lawn mower.
Warm-Season
Centipede Grass
Centipede grass is grows horizontally and is suitable for all contour of the landscaping. It is an appropriate for backyards and lawns. The bright green blades will give your lawn an attractive look.
Bermuda Grass
Bermuda grass requires extra care but can make a lawn look amazing. It is delicate, soft, and pointed. If you want a lawn that looks luxurious, you should consider this variety. That being said, you will need to be consistent with the fertilizing, watering, and mowing.
Zoysia grass
Zoysia grass has amazing warm weather resistance, and it can survive under limited water conditions. Its blades are pointed and can feel stiff. It grows very slowly and is great for a low-maintenance yard.
St. Augustine Grass
The blue-green blades of St. Augustine grass will make your lawn look aesthetically pleasing. This turf is firm and carpet-like. It is popular for its resistance to heat and its drought-tolerance.
Bahia Grass
Bahia grass is valued for its temperature and drought tolerance. The texture of the turf is coarse and durable. It can survive where some other grasses may struggle to grow. Additionally, the turf does not require frequent maintenance.
Buffalo Grass
Buffalo grass forms a uniform, attractive lawn that is soft and dense. The great thing about it is that it can also thrive in drought and high-temperature conditions. It forms a thick turf that can survive under the shade.
Pampas Grass
Pampas grass is a beautiful ornamental variety with large clumps of foliage and feathery plumes. They are hardy in USDA zones 7-11. It is tolerant of drought and wind, and can also survive in partial shade (although is best grown in full sun).
Overall, the best type of grass for your yard is determined by many factors. These factors include how attractive you want the lawn to be, how much foot traffic you will have, and your home's weather condition. We hope that by knowing about these different types, the decision will become much more straightforward for you.
–The Green Pinky