Plumeria are beautiful tropical plants that more homeowners should try their hand at growing. When they are in bloom, they are absolutely magnificent particularly with blue plumeria blooms.
These beautiful flowering plants belong to the family Apocynacae and are also referred to as "Frangipani". They are endemic to Mexico, Central America and the Carribean. In fact, they are the flowers that can be found on leis in Hawaii.
The flowers themselves are the most fragrant at night. This smell is used to lure moths to help pollinate them. The nectar-like smell, however, is simply a lure as they don't actually produce nectar. This actually helps them in their cause because moths will go from one plant to the next, which actually helps pollinate them.
Plumeria come in an array of colors, the most typical being white, yellow pink, red, and orange. But, maybe also in blue…wouldn't that be fascinating? To have a flower that displays one of primary colors that is rare amongst flowers and symbolizes harmony, confidence, and faithfulness? Furthermore, it is also one of the most popular colors named by both men and women. The color has calming effects and the flower itself would be the same color as the sky.
Let's take a deeper dive into blue plumeria flowers.
Stay Away!
There is no such thing as a blue plumeria.
If any online retailer or local plant nursery is trying to sell you a Frangipani with blue flowers, turn around and walk out the door.
They do not exist. Sellers try to take advantage of naive customers by attempting to sell exotic-looking flowers. They know that people love the appearance of flowers with a azure color. For this reason, they may sell blue plumeria at a higher price, and on top of that, they also charge a hefty shipping cost.
Do Purple Plumeria Flowers Exist?
There are some varieties of Frangipani that will bloom a flower that is purple-like in appearance. Some of these varieties include Black Purple, Purple Jack, and Viola G.
However, purists argue that since Frangipani do not produce blue pigment, they cannot produce a true purple color.
You will never find a plumeria flower that a deep and rich violet like you may find in some other flowering plants. The purple that the Frangipani plant produces is more similar to shades of magenta.
Buyer Beware!
The lesson you should learn from this article is that an online seller will do whatever he or she needs to do to make money. They can photoshop a blue plumeria or falsely advertise the color of a flower purely for the sake of turning a profit. If you already bought a blue plumeria, but it has not shipped yet, please return it immediately!
In a similar vein, online sellers may try to do other tricks to get you to buy products. For instance, they may try to sell you a particular fertilizer to have your Frangipani produce different or richer colors. Unfortunately, this is not true.
If you have a plumeria that is not producing as rich colors as previously, consider giving it more intense heat. Heat and stress on the Frangipani can intensify the color and make light oranges appear more dark or even red in appearance.
Be careful when you read information, particularly from retailers online. Don't be one of the many people that are tricked into buying a blue plumeria!
Plants That Produce Blue Flowers
If you want a plant that will produce a azure-colored flower, consider some of these other plants.
African Lily
The African lily will produce a flower that is lily-like and can produce colors that are purple, blue, and white. The blooms are magnificent and last for most of summer.
Borage
The Borago officinalis is a plant that should be more popular than it is. It is an easy-to-grow annual that will self-sow. It produces beautiful, but small, flowers that are pink and blue. They also have a scent that is reminiscent of cucumbers.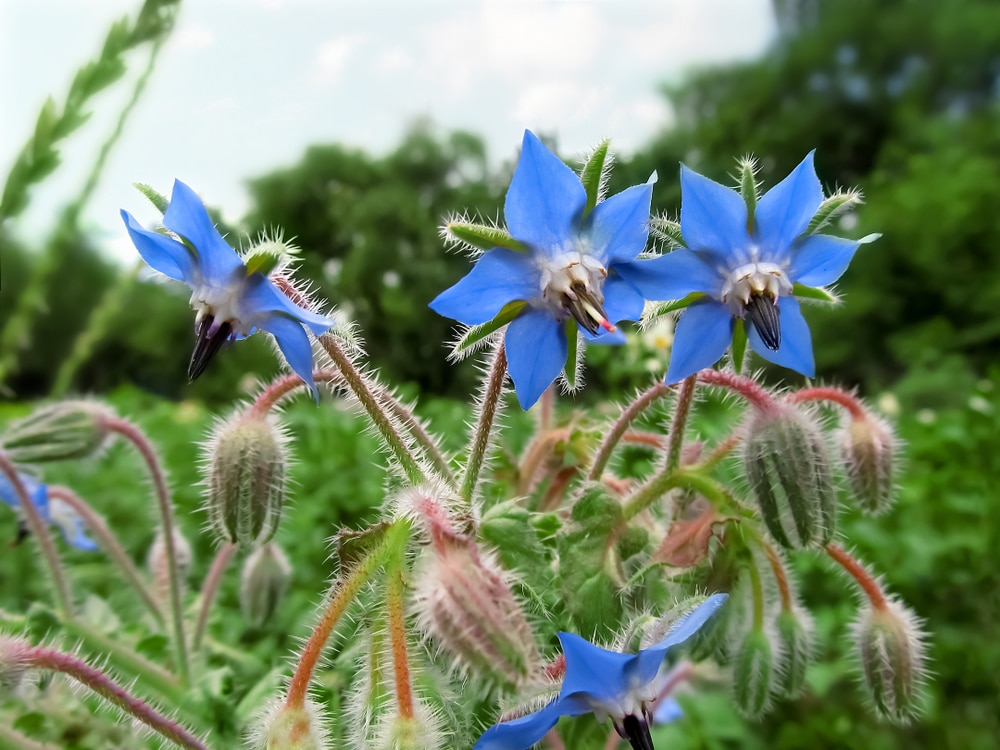 Himalayan Blue Poppy
The Himalayan Blue poppy creates a truly magnificent flower. However, it is considered by many to be the test of a true gardening expert (or someone with a truly green thumb!) It is very difficult to grow. In the absolute perfect conditions, it can perennialize, but many gardeners have difficulty with just having it grow appropriately for one season.